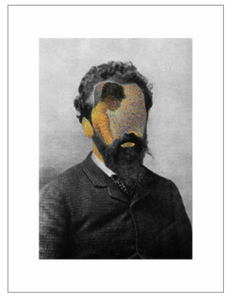 Leontia Gallery
'Portrait 38: Suerat' Digital Collage by Roberto Voorbij
Regular price
£170.00
£0.00
Unit price
per
Tax included.
Digital collage
Klein Imaging Smooth Rag 300gsm

300 x 400 mm (edition of 10) | 610 x 810 mm (edition of 6)
This is a limited edition of the original digital collage 'Portrait 38: Seurat' from the Artist Portrait series by Roberto Voorbij. Each print is work by the artist and printed on archival Klein Imaging Smooth Rag. The print measures 610 x 810mm (edition of 6) or 300 x 400 mm (edition of 10).
Portrait 38 is part of the ongoing series 'Artist Portraits' by Visual and 3D artist Roberto Voorbij. It's a limited edition giclée print featuring French pointilist Georges_Pierre Seurat. The series of collages was originally commissioned by ARTISTS NOT ARMIES. All portraits of the series follow the same concept; an artist portrait in which the face of the artist is replaced by one of their most significant artworks.
---