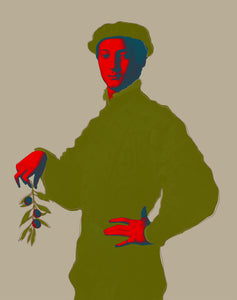 Leontia Gallery
"The Olive Branch" (Oliva) Limited Edition By Magnus Gjoen
Regular price
£2,500.00
£0.00
Unit price
per
Tax included.
RELEASING 1ST DECEMBER
2023
95 X 120 CM
ED. /3
SILK SCREEN ON 310 GSM COTTON RAG 
Magnus Gjoen's latest artwork release, titled 'The Olive Branch,' is a poignant commentary on the contemporary chaos that envelops the world. This seven-color screen print showcases Gjoen's mastery in blending classical aesthetics with a modern twist. The piece features a renaissance gentleman, a symbol of timeless elegance, holding an olive branch—a powerful emblem of peace. Against the backdrop of societal unrest and global turbulence, Gjoen's work invites reflection on the timeless pursuit of harmony in the face of discord. Through meticulous detailing and a carefully chosen color palette, 'The Olive Branch' emerges as a visually striking and thought-provoking exploration of the enduring human quest for tranquility amidst the tumultuous currents of our time.
---